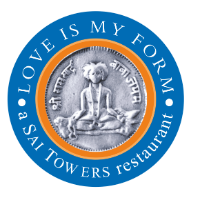 Love Is My Form


Restaurant
View Indian & Chinese Menu
View Continental Menu
Love Is My Form, a Sai Towers fine dine restaurant, has always been known for its welcoming atmosphere, delicious food and unparalleled customer service. Over the past three decades it has also become a special place for guests to return, time and again, to enjoy wholesome food, host family dinners, special occasions, birthdays and anniversaries. On your visit be ready to scope out the aesthetics and relish the delicious food!
BREAKFAST is served between 7:00 AM and 11:00 AM.
All items on LUNCH and DINNER menu is served between 11:00 AM and 9:30 PM.
Love Is My Form is a multi-cuisine restaurant offering a wide range of Vegetarian delights blending the choicest culinary cuisine – authentic South Indian, traditional North Indian & Tandoor, exotic Chinese, a genuine selection of Italian Cuisine and classic Continental dishes all day long combined with courteous service of our attentive staff!
More food options available!
After a nine month-long extensive remodelling and renovation has left this place looking refreshed and elegant. The new space features a modern dining area of 3200 square-foot showcasing a fashionable colour scheme, fabulous furniture, designer vitrified flooring patterns and repositioning of elements giving the interiors an impressively stimulating atmosphere. With spacious and private seating surrounded by architecturally designed teakwood beading walls, brass finished lotus partitions, vertical struts, laser-cut wooden ceilings the place becomes veritably a visual delight as well. The restructure of the main entry front entrance has been repositioned to create easy access opening into a more expansive spacious and luxurious welcoming area. The exteriors of the restaurant has an all new look in most contemporary style and considered the best in town.
The transformation represents the evolution of Sai Towers. Our focus is to continually give our loyal customers and new guests a relaxing and comfortable experience and a truly stunning space for their celebrations in a peaceful yet modern ambience. Rebranded after a spiritual makeover, our South Indian Restaurant addressed by different trade names during the last three decades – Sai Bhagyam Fast Food Restaurant, Sai Towers Restaurant and Vanta Gadhi – is all now merged and melted into Love Is My Form.